We need to embrace ourselves for what our world is turning out to be. Of all the challenges faced by mankind, climate change remains the most threatening issue of all time with the survival of our very planet at stake. The world around us is reeling from the ill effects of a warming globe. India is witnessing more intense heat waves, flashfloods are ravaging the northeast and drought-prone areas have increased by 57 per cent since 1997. The global scenario is no different with record-breaking heat waves and wildfires in Europe and the United States.  These extreme climatic events are pushing the world to the brink of an apocalypse. Humanity is at a crossroads and how we act from here onwards will decide what the future beholds.
Why has the current economy failed us?
Delving into what exactly has caused this climate chaos, it is evident that the current capitalistic economy with its relentless drive for profit-making is the main culprit. The advent of neoliberal globalization and its free trading policy has set loose an extractive mindset. Naomi Klien, a Canadian social activist, has articulately defined extractivism as "a nonreciprocal, dominance-based relationship with the earth, one purely of taking. It is the opposite of stewardship, which involves taking but also taking care that regeneration and future life continue" 
Our current political economic system, in the quest for endless and infinite growth, has been extracting resources nonstop from the earth by either ignoring or denying the real ecological and social consequences with the motive of accumulating wealth and political supremacy. This system has not only been plundering our natural resources but also rewards certain people's efforts more than others. For instance, big corporations have been using their political clout in privatising and exploiting natural resources by operating for their benefit. This utter disregard for earth often results in the exploitation of workers, people and communities. This has led to the worsening of poverty and unemployment in the lives of people, thereby eroding cohesive communities and thwarting the Sustainable Development Goals (SDGs). To elaborate further, our fossil fuel utilisation is a good example of how extractivism requires exploitation. As such, the physical process of extracting, transporting and refining fossil fuels is ecologically destructive; to add to this, the emissions they let out further damage the environment. The  extractive ideology made the poor and marginalised more vulnerable to its impacts pushing them to further impoverishment. Therefore, this mindset needs to be uprooted and a new just way of living should be envisaged to have a positive impact on our people and climate.
Can a solidarity economy be our way forward?
Real development does not constitute profit maximisation and infinite growth. It is about building better lives and resilient communities in a sustainable manner against the risks inherent in the system of capitalist growth. A post-capitalistic approach where the concept of success is redefined can be the only way forward. The harmony of living with nature and valuing experiences needs to be instilled in people's psyche over the dream of material success and hoarding wealth. This is where a solidarity economy that is solely based on regeneration as opposed to extraction comes as a glimmer of hope.
The history of the solidarity economy dates way back to 1937. During the Spanish Civil war, Felipe Alaiz used it as an economic concept and advocated for the construction of an "economía solidaria" between worker collectives in urban and rural areas. This social movement which ran on the principle of economic activism, however, gained momentum only in the mid-1990s throughout Latin America, Europe and Canada. This concept further snowballed globally as a shared research agenda and a powerful network of economic activity and emerged as an economy that is for people and the planet contrary to the ideology of capitalism.
A solidarity economy strives to overcome inequalities in society which runs rampant in the current economic model. It restructures the way we think about ownership. The belief is that resources are owned by people and communities and the business models should be based on local ownership in a more democratic set-up. Some examples of such business models include trade unions, cooperatives, self-help groups, mortgage societies, credit unions, non-governmental organisations, charities and philanthropic organisations. In short, it is an ethical and values-based approach to economic development that prioritises the welfare of people and the planet, over profits and unsustainable growth. The solidarity economy aims at creating networks among enterprises that focus on social issues. It aims at giving a moral purpose, environmental consideration and a democratic character to capital. It believes in the recognition of the importance of human labour with an understanding that all wealth comes through work. It advocates a system where people participate in the decisions that govern their lives.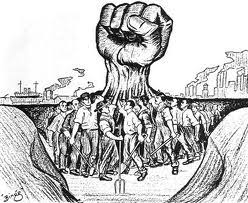 Solidarity economy in India
Solidarity and reciprocity are rooted in the social fabric of the Indian people as a part of their culture and heritage. But India being one of the fastest growing economies, the economic-political system has succumbed to the growth paradigm. This has, unfortunately, resulted in ecological exploitation, community land grabs and forced displacement of people whose survival has been put at risk. The economic reforms that followed saw an increase in the Gross Domestic Product (GDP) but did not deliver on the employment front. As a result, the employment performance had been very dismal, leading to a rise in a resilient informal economy.  There was minimal growth in the organised sector employment and practically most of the new employment was in the unorganised sector where productivity and earnings were low. Informal workers had to compromise on the quality of work, job security and social protection. To add to this the structural shift from the people-centric agriculture sector to the growth-centric manufacturing sector created further division among the rich and poor. This has in turn led to an increase in poverty and inequalities in society 
A large part of the solidarity economy is locked up in the informal sector which at present constitutes a whopping 83% of the total employed. However, as per Niti Ayog,  nearly 25.01% of the population still falls under the poverty line. The biggest challenge which India will face in its shift to a solidarity economy will be to reduce poverty and enhance the well-being of the marginalised. This calls for an urgent need for formalisation of the informal sector, which will ensure financial security, job creation and social inclusion. 
Despite the challenges, there has been a positive trend in the solidarity movement with women being at the forefront. One such example of this movement is the founding of Self Help Groups (SHGs) groups. For instance, SEWA (Self-Employed Women's Association-India) is one of the single largest central trade unions with a membership of over 1.5 million poor, self-employed women workers from the informal economy across 18 States. A similar case in point is the  MKSP initiative by the government relating to the empowerment of women, especially from tribal communities. Another organisation which has made positive strides in the community development scene is the Association for Sarva Seva Farms (ASSEFA). ASSEFA has helped create thousands of self-sufficient villages primarily in Tamil Nadu and in 6 other states.
Conclusion
The global economic and political instability raises questions about the current capitalistic system which puts profits before people and the planet. This confirms the necessity for either an alternate or complementary development framework which operates under the principle of a solidarity economy. This will help rebalance the overall economic, social and environmental objectives and facilitate attaining the United Nations 2030 Agenda for Sustainable Development. A socio-ecological transformation under solidarity ideology will help a great deal in mitigating climate change and restricting environmental destruction and therefore should be our way forward.